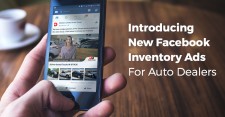 New technology helps dealerships advertise inventory faster and smarter on Facebook
SARASOTA, Fla., July 18, 2017 (Newswire.com) - Last week, Dealers United, a company that brings digital solutions to auto dealers nationwide, launched the newest addition to their Facebook Advertising program: Facebook Inventory Ads.
With the technology, a dealer's inventory feed can be pulled automatically with vehicle photos and descriptions placed directly into Facebook's stream as ads.
Prior to Dealers United's program, finding digital solutions that sync to their inventory feed was a challenge for auto dealers, especially with newer channels like Facebook.
In an interview with Dealers United, Brandon Dunham, director of marketing at Lost Pines Toyota, said, "Coming from outside the automotive industry, I saw how backward these other vendors were doing their marketing. It seemed technology for dealerships was about five years behind."
That's exactly what Dealers United's new Facebook Inventory Ads for auto dealers aims to solve.
By integrating Facebook with their inventory feed, dealers are able to get their inventory in shoppers' hands faster and see updates like price changes and sold vehicles reflect on their Facebook ads in real-time.
And the program doesn't stop there.
Because an average car shopper visits less than two dealerships before making a purchase decision, the program is designed to position the dealership in front of In-Market consumers throughout their entire buyer journey.
This is Dealers United's strategy: conquest In-Market Shoppers, and then retarget them until they convert and buy.
First, the program defines a conquest audience by seeking out local In-Market Auto Shoppers in Facebook's database who are looking to buy a vehicle within 90 days.
Once the conquest audience is defined, the dealer's inventory is presented in each user's Facebook News Feed as Collection and Carousel ads. These ad formats are optimized for mobile devices and help consumers browse the dealer's inventory directly on Facebook.
From the inventory ads, users are sent to the dealership's corresponding Vehicle Details Page, and any actions, like a form conversion or vehicle purchase, are tracked back in Facebook using pixel tracking.
This tracking helps the program detect if a shopper leaves the dealer's site without converting, which triggers a new retargeting campaign on Facebook. Through the retargeting campaign, a user is shown the exact vehicle they viewed (plus other similar models) until they either come back to the website and take action or buy a vehicle.
"Ultimately, this two-part strategy is what the top dogs are doing in every industry: Amazon, Wal-Mart ... you name it," said Dealers United's CEO, Pete Petersen. "But it's still pretty new to the automotive space, and the inventory integration is what has been missing. We think this can really be a game-changer for local dealers."
After every campaign, dealers have the ability to measure sales through Dealers United's Facebook sales matchback report, which compare a dealership's sales file with the dealer's campaign data on Facebook.
The matchbacks show actual sales from Facebook campaigns as well as provide valuable insights into which vehicles are most popular in a dealer's local market.
"The Facebook DMS sales matchback report is key," said Dunham. "Everyone in my department knows how important it is to prove which ads are working, but it actually lets me go in and show my general manager this is what we're doing and this is why it's working."
A select number of Dealers United Dealer-Members were able to beta test the new inventory ads program as it made its steady launch, and have seen on average a 116 percent lift in clicks to their VDPs.
Facebook inventory ads are now available to auto dealers nationwide through Dealers United's free membership.
"Dealers United's inventory ads are something I've never seen before," said Jim Scott, General Manager at Jarrett-Scott Ford. "I'm able to automatically post my inventory to Facebook and put my vehicles right in shoppers' hands. We're getting more VDP clicks, calls, everything — our results are through the roof."
To learn more about Dealers United's Facebook Inventory Ads for auto dealers, please visit www.dealersunited.com/inventory-ads.
About Dealers United:
Dealers United is an online membership that helps over 6,500 auto dealers nationwide improve their dealerships. By offering solutions that save dealers time, cut costs, and sell more cars, Dealers United ensures that every dealer, regardless of its size, grows and succeeds in the automotive industry. Sign up for free at www.dealersunited.com.
PR Contact:
Dealers United
1680 Fruitville Rd, Ste. 401
Sarasota, FL 34236
Phone: (941) 366-6760
marketing@dealersunited.com
Source: Dealers United
Share: